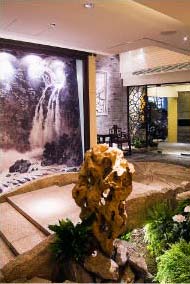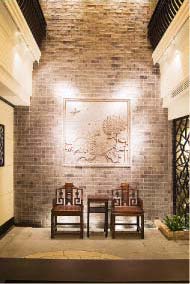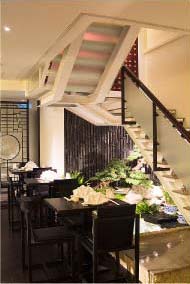 Dian Shui Lou Nanjing Store
Curved art and flowing water, waterfall and thunder and Taihu Lake stone reproduce the scenic south China
The high-ceiling two-storied chrysanthemum grey wall, the stone bridge imitating the bridge in the Master-of-Nets Garden in China and the Taihu Lake stone form the most distinctive scene to be seen when walking into Dian Shui Lou. In Dian Shui Lou, you can see the southern style scenery everywhere. Authentic cooking skills and exquisite architectural features make it a mini version of southern landscape and allow you to get a panoramic view at once.
There are big and small movable private rooms. Separate private space is quiet without disturbing. The largest private room can accommodate 20 people around one table. We also have small rooms for 3~4 people, which is highly appreciated for business meals, family gathering and parties.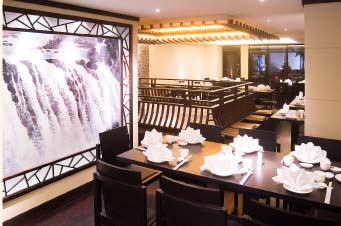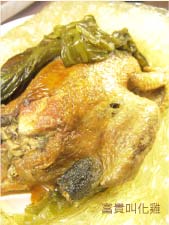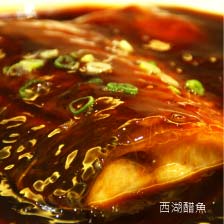 Authentic Jiangzu and Zhejiang Classic Cuisine
Dian Shui Lou, won the highest honor, the five-star award in Taiwan Restaurants Evaluation, is well-known for its Jiangzhu and Zhejiang style cuisines. We always insist on "selecting seasonal, fresh local ingredients and passing down the skilled work and delicate cooking way of Jiangzhu nd Zhejiang".
The famous "Baked beggar's chicken" made with the native chicken from Taitung is a cuisine that you cannot miss. The chicken has to be marinated for one day and stuff with mushrooms, preserved vegetables and sliced pork in its belly. After that, he chicken is wrapped by sour pickled cabbage and lotus leaves, and then covered with yellow mud and bake for 4 hours. The original flavor is completely wrapped. The delicious smell immediate comes out when you unwrap the vegetables. The fresh and tender chicken seems to melt in your mouth.
"West lake fish in vinegar gravy" is the no.1 fish cuisine of Hangzhou. Fresh fish and sweet-sour sauce served with refreshing taste makes this cuisine one of the best dishes in the world. According to the legend, during the Kangxi Emperor's first Southern tour, he also specified to taste the wonderful sweet-sour flavor of West lake fish in vinegar gravy.