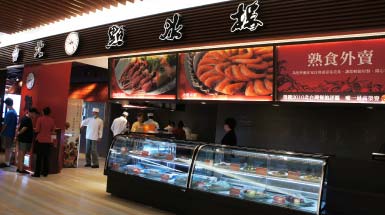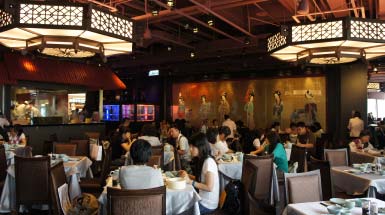 Dian Shui Lou Nan Kan Store
Open Kitchen
The open kitchen allows everyone can see clearly the ready-made cuisine. Gold foil painting of ladies and octagonal palace-style lantern embellish Dian Shui Lou with a unique cultural ambiance. Modern tables, chairs and private rooms make guests feel being intervening time and space of ancient and present time. Nan Kan Store is situated in the Décor House and is easily accessible by driving or by public transport as it is near highway intersection and Taoyuan International Airport. Nan Kan store is suitable for small wedding, year-end party, year-open party and other private use, the maximum capacity is 140 people. It is the first choice for gathering.
Nan Kan Store also provides catering service, including classic cuisines or customized services. Not only chefs will be your home, service staff will also be available. Our services will allow you enjoy the cuisine at your place as if it is served in our restaurant.
Prepared Cuisine Take Turns to be served
We provide take-out service of cooked cuisines in a new way. Bright and spacious cooked-food cabinet is temperature controlled in order to provide the freshest dish to our guests. Every dish is cooked in a dainty method. We select easy-carry and easy-reheat materials to make various dishes, such as braised beef with soy sauce, braised squid with pork, braised pig's trotter, baked chicken with scallions, braised meat loaf with vegetables, spicy radish and beef, etc. All the dishes are freshly made every day, just like a five-star chef cooks for you at home. The temperature is controlled during cooking in order to keep the delicious flavor and upgrade the delicacies.